Cute little match three game that is based on the spookiness that surrounds the holiday of Halloween. This game has you match three runes or more in a row so that you are able to collect and use mystical and magical powers to clear the board. The more runes you remove from the board the higher your score is going to be. The game draws you in and makes it feel like you have to get all the runes before time runs out. You know there is no consequence to not winning because you are able to just try the level again but the music and the voice of the young witch that is guiding you urges you to get it done or else.
This is a fun game to pass the time with the only challenge being to get fill up your rune wells before time runs out. You can even play it with no pressure if you want and take all the time you want to find the perfect placement of a rune. With each setting of a rune or rune set you are trying to match up three or more or combinations of three or more on the board. As your rune wells, the circles that hold the magic that you have been collecting, you are able to cast and use spells that will help you clear the board faster. Remember though that just clearing the board of all runes is not going to let you win, you have to get each of the colored wells filled up to be able to advance to the next level.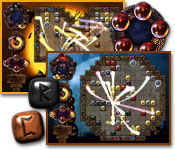 Some of the spells that you are able to cast are freeze spells, a spell that will change the color of all the runes around it to be its same color. Using this spell can cause you to be able to clear that color faster. Another spell is that of the fire spell, a spell that will make all the runes along the vertical and horizontal line leave the board. For each rune that has left the board it will fill that particular color or rune well storage area. While these two spells are powerful and neat to use they also take magic power to be able to use them. Make sure that you don't run out of that power as you try to clear others as you will have to find that color rune on the board to replenish that rune well. Remember if you have not collected enough of the required runes you are not going to be able to continue to the next level of this game.
Spooky Runes is fun to play and not all that difficult and can keep you busy for hours when you are really bored with nothing better to do. The music and colors are inviting and I could just imagine playing this on a cold windy night, it would probably spook or creep a few people out. Even so this is a fun game to give a try as it really is a cute game.