This game is insanely silly as you fire penguins at your enemies. Pengu Wars is much like the game Angry Birds but it doesn't have the polish that the internet sensation has. It is still rough around the edges but might keep you entertained if you don't have anything else to do. There are definitely better games to play out there but this does have a few nicer features that many cannon based games do not have.
In Pengu wars if you get tired of the levels that you already have and or have beaten you are able to make your own. Inside the game itself is an editor that will allow you to make new and interesting levels. The only thing that will stop you is your imagination or the lack of it. You can put breaks in like wood and ice and even put in stops like stone and metal. You even get to choose what enemies you will need to defeat as well as what birds you are going to have available to use in getting back your fish.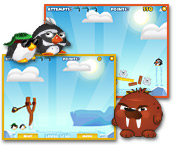 In Angry birds the pigs have stolen the birds eggs, in Pengu Wars the bears, the walruses and sushi loving penguin have stolen your fish and you have to get them back. Each level gets harder and harder as in an endless seeming battle against your enemies.
The game is totally mindless except for where you are trying to aim your birds. I wish there was a way to look back and forth or even zoom out so you can be more accurate but that is not available it seems. I leave it to you to decide if you want to try Pengu Wars for yourself.