Just in time for the best spooktacular holiday of the year we have Amelie's Cafe: Halloween. Amelie is at it again trying to make sure that everyone is having a good time and that all her servings are going to be the best that there is to offer. In this rendition of her cafe we see everyone in cool costumes and Amelie herself in those short sexy skirts that she likes to wear. Anyone who has played any of the Amelie's Cafe games knows exactly what I am talking about. If you don't believe me just look at the screen shots or better yet try the game out for yourself.
This game tests your attention to detail and how fast you are able to click on things. You have to make sure that all the tables get the right food that they want and do so before they get mad and leave. Since this is all about Halloween, Amelie has a wondrous feast setup for her customers. In the beginning you only have 3 foods to deal with, pumpkin pie, salad and steak. The steak and the salad are decorated with a spooky theme so that they look some what like ghosts. It is all the bright colors and decoration in this game that make it truly adorable. Each level of the game adds more customers and more things to keep track of as you go along. You even get to a point where you have brain cake, candy apples, witches brew punch and more that you are able to serve to your guests and customers.
To help you with the game there is a token and coin system that give you special actions to help you. The way it works is as you keep your customers happy you get coins and token that will begin to fill up the bottom of your screen. When ever you have 3 or more that line up in a row next to each other they will trigger a special action.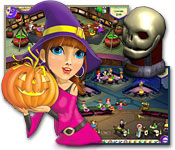 Three or more coins will give you money so that you can try to get an expert goal on a level. Three or more brushes will clean all the talbe. Yes you have to keep the tables clean or your cooks can not work. Three or more ghosts will give candy treats to the customers to make them happy. Those can come in really handy when you have all the tables and counter spaces full. You can also match up wings that will allow you to move quicker so that you can get more done. You are even able to update and upgrade the look of your cafe so that it will make the customers more patient and happy.
This is a fast paced game and I am sure glad that you don't have to seat the customers, they seat themselves. If you had to seat them and take the orders this game would be way too much to handle. With all that is going on there is a lot to keep track of. Coins and tokens collecting, tables getting dirty and you will absolutely hate it when you get the orders messed up and have to throw them away. The cooks can only cook so fast but at least you are able to upgrade them as you go along. You can make them both faster at what they do as well as cleaner at it. You need so much to go right as you start to see the screen in a bluer as you try and keep all the people happy at Amelie's Cafe: Halloween.